When it comes to providing and installing tankless water heaters in Newark, OH, we bring you some of the best systems and prices around. There are so many benefits to choosing a tankless hot water heater, not least the convenience and cost-savings these systems bring. Are you currently the last one in the shower every morning? Is it cold, or lukewarm at best after the rest of the family has had a hot shower? A tankless water heater provides constant hot water night and day no matter how large your family is or what time they jump in the shower. And because your water heater heats water on demand instead of by the tank, the cost savings can be quite significant. We'd love to tell you more about the beauty of these systems and why more and more homeowners are making the switch from tank systems. We carry some of the latest and best water heaters on the market today from brands you know and trust. Why not call us today for a cost-effective quote?
Experts in Tankless Water Heaters in Newark

Choosing from the tankless water heaters in Newark that are available to you can be a daunting decision. That's why our team will work closely with you to recommend the best system to suit your exact needs. We'll take a number of factors into account, such as the size of your home and your budget. We'll then leave you with a no-pressure estimate that you can consider in your own time. We'll answer any questions you may have and can also give you some ideas about the cost savings you can expect. Best of all, you get to say goodbye to your inefficient water heater and hello to a powerhouse of a system that brings you steamy hot water whenever you need it. Our plumbers have years of experience in fitting water heaters and will ensure your new system is fitted to the highest standard and tested thoroughly before going into operation. You won't believe the difference a tankless hot water heater can make to your day. Call our team now to arrange an appointment.
Here are just some of the benefits of a new tankless water heater:
Hot water on demand
Lower energy bills
Compact design
Low maintenance
A Tankless Hot Water Heater You Can Trust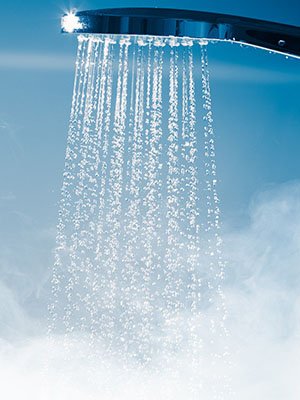 When investing in a new tankless hot water heater, you need to be sure that the system you choose will give you years of dependable use. At Apex Plumbing, Heating, and Air Pros, we offer you peace of mind with our trusted workmanship and leading-edge systems. We've been providing our expertise for years and we'd be delighted to extend our services to you today. When you need nothing but the best service and advice, our team will be happy to help. From explaining the benefits of tankless water heaters to you to providing you with a cost-effective estimate, we'll leave you with no doubt that we know our stuff and offer outstanding value for money. Our systems also come with a warranty and we give you our own guarantee of excellence. Come and find out why our customers come back to us time and time again. We can also offer ongoing maintenance for your new water heater to keep it working at its best.
Call the team at Apex Plumbing, Heating, and Air Pros to find out more about our tankless water heaters in Newark and the convenience and comfort they bring to your everyday life. We're on hand to answer any questions and show you why we are the best of the best.