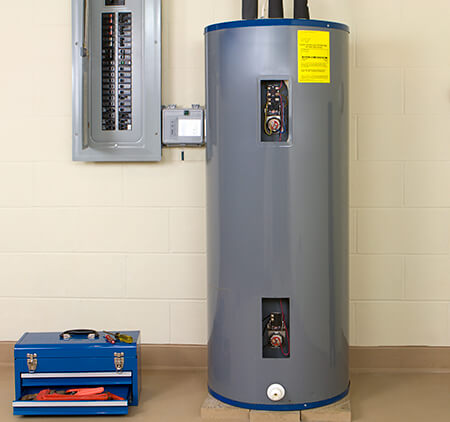 Water heater installation is essential when the existing water heater in your home in Marysville, OH is no longer up to the job of providing hot water for you and your family. A new water heater can not only provide you with a more reliable supply of hot water, but could also save you money by being more efficient than your old one. Apex Plumbing, Heating, and Air Pros can help you to find the perfect modern, efficient water heater to meet the needs of you and your family.
Trustworthy Water Heater Installation in Marysville
A water heater provides hot water for washing, bathing, showering, and cleaning. Some models of water heater store hot water in a tank so it is ready to use when you need it, while others heat water on demand when you open a hot tap. The best type of water heater for you depends on the size of your home, the number of people living there, and your lifestyle. Tankless water heaters can be more efficient, save-spacing, and convenient for many people, particularly if you have high hot water needs. When you contact us to ask about our water heater installation service, we will help you to find the perfect replacement water heater for your home in Marysville.
Here are some signs that you might soon need a new water heater:
Water heater older than 10 years
Water heater produces rust-colored water
Water tank is leaking
Not enough hot water
Strange noises
We can install all kinds of water heaters, including electric, gas, tankless, and systems that include a storage tank. There is no single answer to the question, "which is the best water heater?" as it depends on your home and the way you use hot water. Rest assured that our water heater installation pros will help you to find the best model for your home.
Dents in your water heater? Call Apex Plumbing, Heating, and Air Pros to help you determine how they may be impacting the functionality of your system and how to fix it.
Trusted New Water Heater Service
At Apex Plumbing, Heating, and Air Pros, we can supply and fit a new water heater that meets all your hot water needs. We carry major brands of water heaters that can provide you with the reliability and energy efficiency you desire. Our plumbers are highly trained and experienced in water heater installation. Apex Plumbing, Heating, and Air Pros offers a 5-star satisfaction guarantee: if you are not happy with our service, we will do whatever it takes to resolve the problem. Reach out to us today for a free, no-obligation estimate.
Are you considering water heater installation or replacement in Marysville? Give our professional and helpful team a call today!