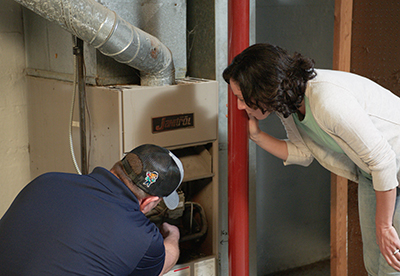 When the temperature in Upper Arlington drops well below freezing, it's important to have a reliable heating system. Your choice might reflect a need for year-round combined heating and cooling operation with minimal maintenance, quickly available whole-house comfort from natural gas, or all-electric traditional heating. Each has its strengths, and all can last for decades with proper maintenance and tune-ups, experienced repairs, and careful inspection.
Selecting the right team for routine care and installation is important. Technicians can also provide updates to provide whole-house, comfort-enhancing features such as humidity and air quality management, zoned ductwork, and more. If it's to your advantage to replace your system with a newer heater model or change the type of heating equipment you use, having a trusted HVAC technician can help you make the right choice.
Expert Service for Heat Pumps in Upper Arlington
It may seem that heat pumps can run forever without attention, but they do occasionally need repairs and maintenance. Attention from one of our skilled technicians at Apex Plumbing, Heating, and Air Pros can also bring efficiency up to par for the season, so you get the most heat from your energy usage. Many Upper Arlington homeowners are thinking about updating their heat pumps to the latest models because of improved efficiency and available incentives. New technologies such as variable-speed compressors, add additional efficiency and comfort. Modern heat pumps can be used even at the lowest temperatures experienced in Ohio, making them a viable choice for your heating system.
Strengths of a heat pump system include:
Year-round heating and cooling from a single unit
Compact space usage
Generates no combustion emissions
Routine maintenance requirements
Professional Service for Furnaces in Upper Arlington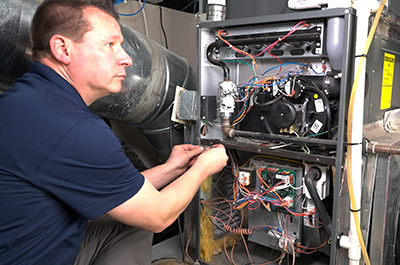 Whether you have a legacy furnace that's decades old, or a modern, sophisticated and highly efficient model, Apex Plumbing, Heating, and Air Pros can provide the maintenance and repairs you need. Many families enjoy the quick, comfortable heat that these systems provide in their homes. It's essential to have routine checks of furnaces to ensure that combustion gasses are within limits, especially carbon monoxide, and that the heat exchanger provides needed protection.
Updating to the latest model can significantly boost your efficiency, often as much as 20 percent or more. While older equipment may provide 60 percent or less, modern furnaces start at 80 percent efficiency, and more advanced designs provide combustion efficiency in the high 90s. For cold, dry winter days, adding a humidifier can add welcome moisture to the air as it circulates.
Our experts help with furnaces that:
Provide quick, powerful heat in deep winter
Efficiently burn natural gas
Produce a minimum of combustion gasses
Have the latest safety features
Offer BTU capacity for larger homes
Efficient Electric Furnaces
Electric furnaces provide powerful heat similar to gas-fired systems, but are an excellent choice for all-electric homes that prefer not to use compressor-based equipment for heating. Combined with air quality and comfort features like humidity management, they can provide reliable heat for your family to enjoy. Maintenance and repair needs are fewer than for traditional furnaces, since the combustion source of heat is replaced with a heating element in electric furnaces. Smart thermostat technology can help manage your home's temperature to precisely meet your needs and daily routines. Replacing fuel-based heaters with electric furnaces is straightforward, providing quick restoration of heat if needed.
For experienced care and installation of heat pumps and furnaces in Upper Arlington, call Apex Plumbing, Heating, and Air Pros today!