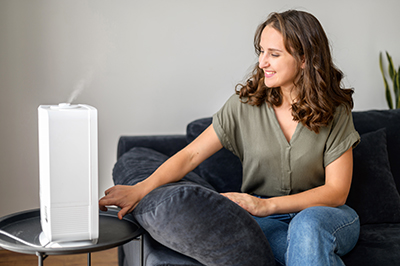 Are you considering installing humidifiers in Columbus, OH? High and low humidity can cause problems in your home and negatively impact indoor air quality. The ideal humidity level is between 30-50%, but in Columbus, it can get much more humid during the summer.
While your AC unit has a built-in dehumidifier to handle changes to humidity caused by cooling, it's often not enough to also combat high humidity outside.
Dehumidifiers installed separately are the way to go if you want consistent moisture levels regardless of the weather. Contact an heating and cooling experts to find out what systems your home needs to maximize your comfort year-round.
Reliable Installation for Humidifiers in Columbus
During Columbus winters, the air can get very dry. You might notice your eyes feeling itchy or wake up with a sore throat. Both of these issues can be caused by dry air. Some people notice that their snoring worsens or starts when the air dries.
And, even when outdoor humidity levels are fine, running the heat can dry up the air inside your home. Humidifiers help equalize the moisture level and return it to that ideal range of humidity. In addition to the health benefits, there are also benefits to your home when keeping it in that ideal range.
Wood furnishings and fixtures can be vulnerable to a problem called dry rot. When the air in your home stays dry for too long, it can cause damage to your cabinets, window frames, doors and furnishings.
At Apex Plumbing, Heating, and Air Pros, we can help you find out what level of humidity your home averages and how to fix it with the addition of whole-home humidifiers.
There are many benefits to adding humidity control for your entire home, including:
Better sleep hygiene
Longer lifespan on wooden furnishings and fixtures
Reduced headaches and sinus pressure
Reduced odors
Top Dehumidifiers in Columbus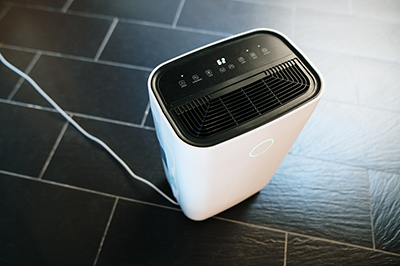 High humidity levels can leave you feeling like you're swimming through your home. You might sweat more or feel sticky. The air can feel heavy, making breathing more difficult. It can also provide a more welcoming environment for mold or mildew, leaving you with unpleasant odors and potential health risks.
Combatting that excess moisture is one of the reasons why so many Columbus homeowners opt for whole-home dehumidifiers. A dehumidifier pulls moisture out of the air, reducing the ambient humidity levels and protecting your home against possible condensation.
When humidity levels are high, moisture can build up on the walls and ceiling in your home or in cracks in your floor. Any wallpaper might start peeling and some types of paint might begin to bubble. With a dehumidifier to balance the humidity level, these problems don't happen.
Dehumidifiers can also help eliminate dust and allergens, making indoor air easier to breathe for those with allergies or asthma — or both.
The benefits of a whole home dehumidifier include:
Reduced moisture levels
Less hospitable environment for mold and mildew
Lower pollen levels
Reduced odors
Protect home furnishings and decor
If you're ready to improve your indoor air with humidifiers and dehumidifiers in Columbus, call the experts at Apex Plumbing, Heating, and Air Pros.