If you need a furnace service in Lancaster, OH, Apex Plumbing, Heating, and Air Pros is here to help. Our heating repair technicians perform inspections and regular service visits to keep your furnace working effectively all year round.
Furnace Service and Heating Repair Professionals
Gas furnaces should last for many years, but it's important to check they're functioning properly, because a damaged furnace could present a safety hazard. Your home's furnace has many moving parts and components that are vulnerable to wear and tear.
Some parts, such as air filters, must be cleaned or replaced regularly. Clogged filters make your furnace have to work harder to heat your property, leading to increased energy bills and also putting more strain on the furnace. Over a long-enough time frame, this can increase the likelihood of a breakdown. An Apex Plumbing, Heating, and Air Pros heating engineer can inspect your air filters and change them if necessary as part of a regular furnace service.
The pilot light and heat exchanger are two other elements of the furnace that are vulnerable to failure. A pilot light that is not burning yellow or that won't stay on is a warning sign of other issues, such as clogged vents or poor air flow. A damaged heat exchanger could be leaking unwanted gases into your home and should be repaired immediately.
Furnace service can cover a variety of potential issues, including:
Checking the furnace is properly ventillated
Cleaning vents and filters
Repairing malfunctioning parts such as fans or the heat exchanger
Checking the pilot light is burning clean
Lancaster's Heating Experts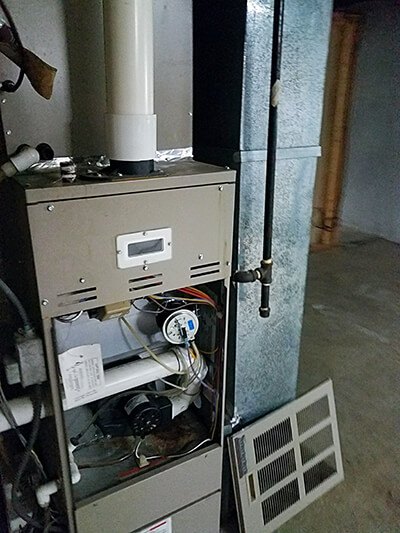 By booking a regular furnace service you can reduce the likelihood of failures that would require more costly heating repairs. At Apex Plumbing, Heating, and Air Pros we have a long history of helping Lancaster families keep their homes warm and comfortable. Our skilled heating engineers offer a five-star satisfaction guarantee. Whether you call us for an emergency heating repair or are a member of our maintenance club and receive regular furnace service visits, you can rest assured that our heating experts are committed to offering professional, friendly and punctual service.
Looking for more than furnace repair? Apex Plumbing, Heating, and Air Pros can also handle your installation, maintenance and air conditioning repair services! Trust the Pros Who Knows!
Our lines are open 24 hours a day for emergency enquiries, and we have a wide range of timeslots available for maintenance visits. If you're preparing for the winter and want to feel confident your heating will work well, call Apex Plumbing, Heating, and Air Pros today to schedule a service for your furnace.