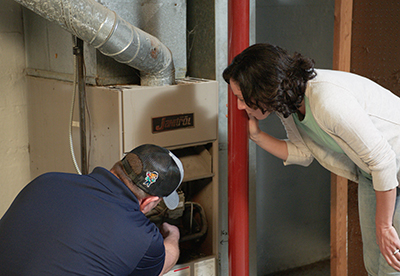 Furnaces and heat pumps in Reynoldsburg homes help combat the frigid winter temperatures our area sees each year. At Apex Plumbing, Heating, and Air Pros, we are proud to provide all of the services your heating system will need over its full life span. From installation to end-of-life replacement, and for all the repairs and maintenance in between, our team will be here to help keep your heater running smoothly.
Read on to learn more about furnaces and heat pumps, along with the many services we provide for them.
Services for Electric and Gas Furnaces
Furnaces heat the air they take in and pump it out into your home through a series of air ducts running throughout your home. Gas-powered models tend to be a bit more affordable than their electric counterparts, both in terms of purchase price and operational cost. However, electric models can last 20 to 30 years, while gas furnaces typically have life spans of about 10 to 15 years. Your HVAC technician can help you choose which is best for you based on your home's configuration, as well as your needs and budget.
When your furnace reaches the end of its life, you'll need to replace it, and our team is happy to help, whether we completed the initial installation or not. Once your new furnace is installed, you'll want to care for it properly with annual tune-ups and prompt attention to needed repairs. The longer you ignore any potential issues, the worse the problem is likely to become, potentially shortening the life of your furnace.
Some common signs that you need furnace repair include:
Smoke or burning smells
Banging or clanking sounds from furnace
Air from vents blowing cool or not at all
Furnace short-cycling or running longer than usual
Be sure to contact our team right away for assistance with your furnace repair needs. Don't forget to schedule your annual maintenance appointment as well.
Heat Pump Services in Reynoldsburg
Like furnaces, heat pumps can warm up your home when the weather is cold. What sets them apart, though, is that they can also cool your home in the summer. Heat pumps don't actively heat the air they process, but rather move the heat into or out of your home to achieve a comfortable temperature. This makes them much more energy efficient than furnaces, which can save you money.
As with furnaces, we offer a full suite of services for heat pumps, starting with the initial installation. Whether your home already has a heat pump or you are making the switch from a furnace, boiler, or other heating system, we can help you out. Switching from a furnace is easy, and you can make use of the furnace's ductwork with a ducted heat pump. Ductless varieties are also available for homes without existing ductwork.
Our team can handle any repairs your heat pump requires over the years as well, though their repair needs tend to be minimal. Ongoing maintenance is important as well to keep everything running smoothly. Tune-ups can also help prevent major problems by giving your technician advance warning of any impending issues so they can repair them quickly.
For all your installation, maintenance, repair, and replacement needs for electric and gas furnaces and heat pumps in Reynoldsburg, you can count on the team of experts at Apex Plumbing, Heating, and Air Pros. Reach out to us today to learn more about your heating system options and schedule a free consultation to discuss your heating needs in greater detail.