If you're experiencing a blocked drain right now, we understand how unpleasant the situation can be! We've been providing drain cleaning services in Columbus, OH for years and we are here when you need us. We offer Columbus drain cleaning that you can trust and which will restore your drains to perfect working condition in next to no time. Call us at the first sign of a problem and we'll be there. With our five-star reviews, honest service, and 100% satisfaction guarantee, you simply can't go wrong calling Apex Plumbing, Heating, and Air Pros.
Fast Columbus Drain Cleaning Company
When a drain blockage strikes it can often do so without any warning and the tell-tale signs can be very unpleasant. Foul odors and slow draining showers, sinks, and toilets can all make for a horrible experience in the home, especially during the hot summer months. That's why you need a Columbus drain cleaning team that can get to you quickly and clear the blockage without fail. Our drain cleaning services will ensure your blockage, whether it is hair, soap deposits, minerals, or food waste is cleared away fast. We'll clear the clog and also give you advice on how to avoid these problems in the future.
If you've noticed the signs of a drain blockage it's time to call the "Home of the Pros". We're proud of the reputation we've built over the years for great service and customer care and we'll have your blockage cleared completely before you know it. We offer plumbing services done right and ensure five-star satisfaction for all of our customers. Regardless of the size or complexity of your clogged drain, our Columbus drain cleaning service is the answer.
What are the Most Common Causes of Clogged Drains?
Although clogged drains and pipes may seem like minor issues, they can quickly escalate into significant problems if you don't deal with them ASAP. The longer a pipe remains clogged, the greater the chance for corrosion and leaks to develop. You can prevent clogged drains by learning what causes them in the first place.
Hair: Hair is a significant cause of drain backups because it binds with grease and other sticky material to form knotted clumps that are difficult to remove.
Soap: You may wonder how soap can contribute to blocked drains, but the fact is that some soaps are made with grease or fat, which combines with minerals in the water to clog your pipes.
Dirt: While the purpose of washing clothes is to remove dirt, you can spare yourself some aggravation by removing as much loose dirt and mud as possible before putting your clothes in the washing machine. Doing this will prevent the dirt from accumulating and forming clogs.
Food Waste: Many people make the mistake of putting food waste and debris down the drain instead of putting it in the trash or on a compost pile. Food waste, coffee grounds, and tea leaves don't break down and solidify over time to cause significant blockages.
Minerals: If your water has a high mineral content, these dissolved substances can quickly build up over time, causing drains to become slow and eventually stop.
Toilet Paper: If you're one of those people who insists on using a lot of toilet paper, remember that too much going down the drain at one time can cause a blockage.
Don't hesitate to contact us when you need drain cleaning services in Columbus. When a drain blockage isn't taken care of quickly, it can cause problems throughout your home. Foul smells are the least of your worries. It's when waste starts backing up that you need to panic! We've seen it happen countless times and the damage caused can be colossal. Call us right away and we'll get your home smelling fresh again and help you to avoid the hassle and expense that a neglected blocked drain can cause.
When to Call a Professional Drain Cleaning Service
If you're like most homeowners, you don't think about your pipes and drains until there's a problem. However, like other aspects of your home, regular drain cleaning and maintenance keeps issues at bay and keeps your drains fast and effective. Here are a few situations where you may have to call a plumber for drain repair.
Slow Drains: Clogs typically don't develop overnight; they build up over time as waste sticks to the walls of your pipes and builds inward. When you notice a drain that begins draining more slowly than usual, call a plumber for thorough cleaning.
Unpleasant Odors: A common sign indicating you need to have your drains cleaned are unpleasant odors coming out of the drain. As food and waste build up in the pipes, it begins decaying, which puts out foul odors.
Annual Maintenance: You can avoid clogged drains by being mindful about what you put down and by calling a plumber for thorough drain cleaning once a year.
Your Drain Cleaning Professionals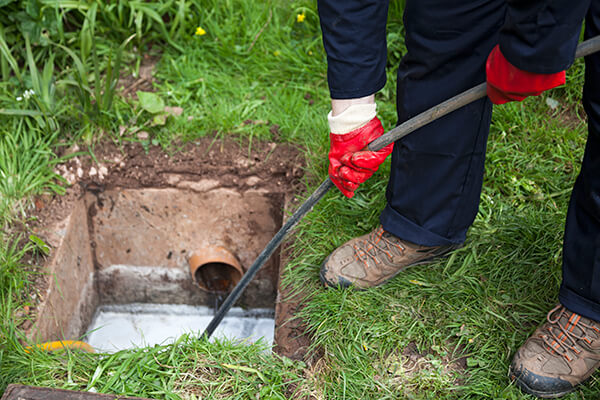 When you are looking for five-star satisfaction, a team that cares, and the best in customer care, look no further than Apex Plumbing, Heating, and Air Pros. We offer Columbus drain cleaning that is fast, affordable, and reliable. No matter what the nature of the blockage or where it is, our drain cleaning services will make light work of the problem. We offer services you can depend on, so you know you can call us whenever you experience a problem.
Best Drain Cleaning Methods
While most people reach for a plunger or chemical drain cleaner when they have a clog, there are safer and more effective ways to deal with these issues.
Although chemical drain cleaners are easy to use, most experts advise against them because of the chemical's potential to damage your pipes. Some of these products can give off unhealthy gas fumes, which puts your family at risk.
For effective drain cleaning that's safe for your plumbing and your family, consider using a drain snake or a sewer jetting method that blasts away clogs with high-pressure water.
Our team can also help with clogged drains in:
For best Columbus drain cleaning, call our team at Apex Plumbing, Heating, and Air Pros. We'll get one of our trained and dependable plumbers out to you quickly!