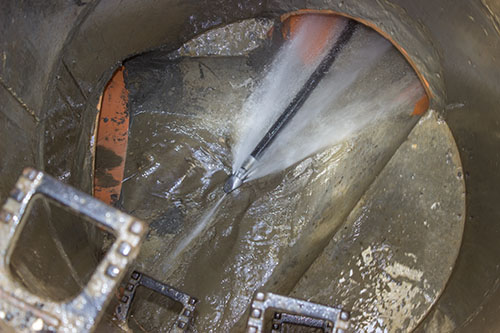 If your drains are clogged or your sinks are backed up, you may benefit from hydro jetting in Columbus, OH. Hydro jetting is a drain cleaning technique that utilizes pressurized water to remove stubborn blockages and debris from sewer lines and drains. Professional plumbers often recommend hydro jet services when customers report issues such as backed up sinks, tubs and toilets, slow moving drains and low water pressure.
By scheduling hydro jet drain cleaning with an expert plumber, you can prevent further damage to your plumbing system, and you'll have the peace of mind in knowing that your drains are running clear and free of build-up.
Contact us whenever you need expert drain and sewer services in the Columbus area.
How Hydro Jetting Works
If you have any experience with hydro jetting, you know that it can be pricey and wonder if it's worth it.
Hydro jetting is simple technology despite the futuristic-sounding name. Once the plumber determines that hydro jetting is the best method to deal with a clog, they use a special jetting hose to blast water into the pipe at high pressure. The pressure is adjustable up to 4,000 PSI, meaning few clogs can stand up to that force. Another benefit of hydro jetting is that this method scours your pipes' entire circumference, leaving them clean and in like-new condition.
Lastly, unlike some drain cleaning methods, such as chemical drain cleaning products, hydro jetting uses only water and is entirely safe for your pipes and the environment.
Expert Hydro Jetting in Columbus
Hydro jetting is an environmentally-friendly technique that can help extend the life of your plumbing pipes and keep the water flowing freely through your plumbing system. Blockages can occur for many reasons.
If your home has hard water, the minerals in the water can build up over time and attach to pipe walls, creating blockages that can hinder water flow. Foreign objects such as silverware or large chicken bones can also become lodged in kitchen drains, causing clogs and back-ups.
In some cases, underground tree roots can make their way into sewer lines through small holes and cracks. The roots are naturally drawn to the moisture in the pipes, and once inside, they can expand over time and create large blockages.
Some common signs of tree root invasion include constantly clogged toilets, slow-draining water, and sewage smells coming from the drains. Hydro jet tools can effectively cut through these roots so the water can flow freely again.
Here are some common signs that can suggest your drains or sewer lines need hydro jet service:
Standing water in sinks and tubs
Low water pressure
Slow draining water
Sewage backup in tubs and sinks
When you schedule hydro jet services, your plumber will use specialized equipment to inspect your drains and sewer lines and locate the blockages. Next, they'll insert a large hose into the drain or sewer pipe. A pump will be utilized to push pressurized water through the hose, and the water will break up the blockage.

The high pressure water is extremely effective at breaking down all different types of material, as it essentially "slices" through blockages. Once the material is broken down, it should easily flush through your pipes. In the event that the blockage caused damage to your drain or sewer pipe, your plumber may also recommend pipe repair or pipe replacement.
Hydro Jetting Benefits
Zero Chemicals: As mentioned above, unlike some drain cleaners you buy at the store that can corrode your pipes and give off hazardous fumes, hydro jetting uses only water, making it much safer.
Long-lasting Results: Because hydro jetting cleans pipes so thoroughly, they remain cleaner for longer than other methods.
Fast Acting: Because of the high water pressure, hydro jetting cleans pipes quickly, which means you get full drain service restored almost immediately.
Less Mess: Sometimes, plumbing contractors dig up portions of your property to get to sewer lines and deal with clogs. In many instances, hydro jetting eliminates the need for excavation, which means less mess and less damage to your landscaping.
Reliable Hydro Jet Services in Columbus
If you're experiencing clogged drains or any other issue that can benefit from a hydro jet procedure, Apex Plumbing, Heating, and Air Pros can help! We're a full-service plumbing and HVAC company, and all of our work comes with a satisfaction guarantee.
Our plumbers are highly trained and experienced, and they use the most up-to-date, cutting-edge tools, equipment and technology to troubleshoot and eliminate tough clogs and blockages. We receive consistent positive reviews on Google and look forward to providing you with 5-star service in Columbus!
Apex Plumbing, Heating, and Air Pros provides a wide range of hydro jet services to customers throughout Columbus. Contact our office today to schedule an appointment with one of our expert plumbers!