There are many reasons why you might need help with excavation in Columbus, OH. Whether you are digging a basement, adding a new driveway, or you have problems with your sewer line, we're on hand to help. With years of experience as excavation contractors, we will take the time to get to know your needs and then plan your project to perfection. Using some of the latest technology, such as our remote cameras, we can get up close and personal with your plumbing or use our equipment to plan out the placement of new systems.
Whatever your excavation needs, we have them covered. Our team will work hard to keep disruption to an absolute minimum. We'll tell you exactly which areas we need to work on and leave the site clean and tidy once we are finished. Let us handle your job with precision and care. Call our team today to get started. We can carry out a full inspection and provide you with a cost-effective estimate.
Contact us whenever you need expert drain and sewer services in the Columbus area.
First For Excavation in Columbus
You may not know whether you need excavation in Columbus or not. That's where we come in. We can ascertain the problem you are experiencing and work out the best approach. For example, a problem with your water lines could require the need to carry out some excavation work so that we can get to the line in question to carry out repairs or replacement.
Our team will only excavate if absolutely necessary. We aim to keep everything intact if we can. Our honest and professional service has helped us to become one of the leading excavation contractors in the area today.
We've invested in some of the best and most accurate equipment available. It means we can pinpoint the problem and then target our efforts in that particular area. We won't dig up any areas that we don't need to. We'll also look at ways we can fix the problem at the surface if we can. Don't let a plumbing problem ruin your day, even the ones you can't see. Call our team today to speak to our expert plumbers. We'll find the nature of the problem and determine the best fix.
Reasons to Call An Excavation Plumber
There are countless reasons you may need to hire an excavation company to help with your plumbing needs, and some of them are not always obvious. Whether you're setting up the underground utilities for a new home build, digging a basement, tearing a building down, or adding a new driveway, we can help! If you're not sure when excavation services may be required in regard to your property's plumbing, here are some circumstances to consider.
Gas line repairs
Pipe relining or replacement
Sewer and water line repairs
Foundation drain installation
The Excavation Contractors You Can Trust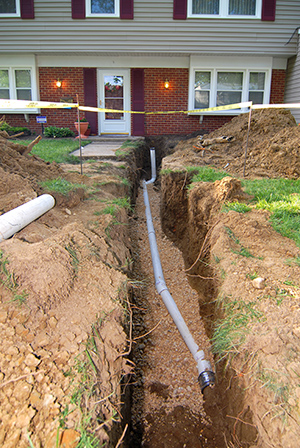 When it comes to excavation in Columbus, nobody does it better than our team. We're "The Pros Who Knows" and we'll ensure all work is completed to the highest industry standard. We'll arrive at your home with all the equipment we need to take care of the job and we'll get to work right away. We always aim to give you an accurate timeline for completion. You can also get same-day service from our team.
That's good to know when you have water pooling around your home, or your water pressure is really low. Our team is always on hand to help and we'll provide you with an upfront fair price before we start work. You only have to read some of our many 5-star reviews to see how highly our customers rate us. Don't leave your plumbing to chance when we're the only excavation contractors to call.
Speak to the team at Apex Plumbing, Heating, and Air Pros today and discover why we're a leading name for excavation in Columbus. We're looking forward to telling you more about our services and starting your project.