We are dependable most of the time, carrying waste away from your home efficiently and on-demand. But when a problem occurs, you'll need professional drain services fast. If you are experiencing a problem with your drains in Columbus, OH, get in touch with our experts. Whether you've noticed foul odors coming from your home drains or you are dealing with a full-on blockage with waste backing up into your property, we'll be with you as quickly as possible. With our speedy service and plumbing expertise, it's little wonder we're a leading drain company in Columbus today.
Drain Services in Columbus You Can Trust
Drain issues can occur out of the blue or they can gradually build up over time. Some issues can be solved with a simple plunger, but more often than not, you'll need a professional team to come to your rescue. At Apex Plumbing, Heating, and Air Pros, we have the experience and equipment to get your drains cleared fast. Call us for fast and reliable drain services in Columbus.
While blocked pipes and clogged drains might not sound like a major issue, if they are not repaired quickly, they can cause a lot of damage to your home or business. The longer a clog remains in the system, the more chance there is of leaks and corrosion developing. When these issues occur, they can result in excavation and replacement being required. You can avoid big repair costs and the upheaval major works will cause by calling us today. We'll clear your drains and get them fully operational as quickly as we can.
Our drain services include:
The good news is that many of these issues can be avoided. Call our drain company today and we can give you advice on how to keep your drains flowing freely. Speak to our team today to find out more about our drain services in Columbus!
The Only Drain Company to Call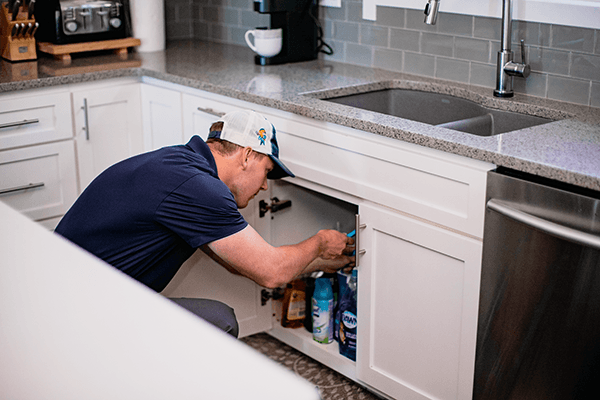 When you need urgent assistance with a clogged drain, get in touch with our team here at Apex Plumbing, Heating, and Air Pros. We're dedicated to providing you with reliable service and we're standing by ready to assist. With our professional and friendly approach and 5-star satisfaction guarantee, you should make us the first choice when you are looking for a drain company in Columbus.
Call Apex Plumbing, Heating, and Air Pros today to find out more about our drain services and how we can help you to keep your drains and pipes in perfect working order.