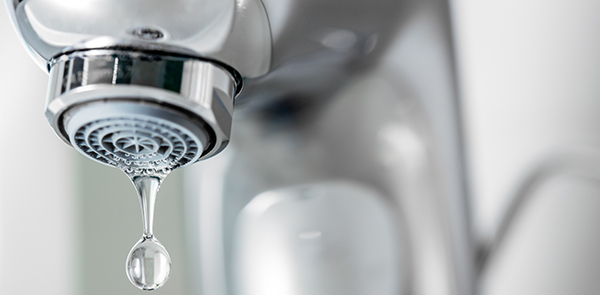 If your pipes are leaking or your water pressure is low, you could benefit from repiping in Columbus, OH. We offer a selection of services that will restore your pipes back to perfect working order. Whether you've just moved into a home with outdated plumbing, or you've noticed your water is a rusty color, it's time to call our team. We offer pipe replacement services that will take care of corroded or leaking pipes and have your plumbing working perfectly once more. Replacing pipes can not only rejuvenate your plumbing but can also add value to your home.
We'll tell you all about the benefits and what a difference new pipes can make to your plumbing throughout your home. The time it takes to complete pipe replacement will depend on the size of your home. However, we can repipe a small property in as little as 2-3 days. We'll explain the process to you and give you a timeframe alongside your cost-effective estimate. Our team has years of experience in replacing pipework and we'd be delighted to talk to you today.
Contact us whenever you need expert drain and sewer services in the Columbus area.
Signs You Need a Home Repipe
Many homes built before 1960 relied on galvanized steel pipes for their plumbing system. At the time, galvanized plumbing was an ideal alternative to lead or copper pipes. Although zinc coating gave the steel pipes some protection, time and wear and tear wear that coating away, leading to corrosion. Once corrosion starts, you may get rust-colored water or leaks. The best way to deal with old plumbing like galvanized steel is to replace it. Call Apex Plumbing, Heating, and Air Pros and find out how cost-effective our house repiping services can be.
It's common for homeowners to ignore signs that their plumbing system is failing and end up paying a lot more for repairs or replacement than they otherwise would have if they dealt with the problem right away. Recognizing the signs that your pipes need replacing can save you the expense of water damage and health problems.
Here are a few signs that indicate you need a whole house repipe.
Your Plumbing is Old: The lifespan of your home's pipes depends on the materials used and the climate you live in. If your pipes are over 50 years old, chances are they're made from galvanized steel, which is likely now corroding. If you still have galvanized plumbing, call a repipe contractor to find out how to replace them.
Visible Corrosion: If you see corrosion on your pipes, it means that the entire system's structural integrity is probably compromised. Inspect your home's pipes regularly and watch out for signs of rust.
Leaks: Most people prefer to patch leaking pipes rather than replace them. However, if one of your pipes is rusted and leaking, chances are all of them are in the same shape. Sometimes, a whole house repipe is the best solution.
Poor Water Quality: If you start getting rusty or yellow water out of your home's faucets, it means that the water quality has been compromised. When this happens, plan for a repiping sooner rather than later.
Dependable Repiping in Columbus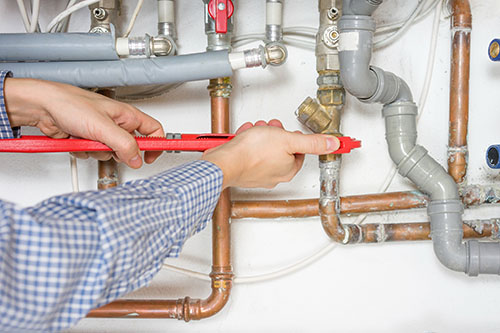 It's so important that you choose the right contractor when arranging repiping in Columbus. This is a job that could go disastrously wrong if it's not done correctly. Fortunately, we have years of experience when it comes to pipe replacement and we'll give you peace of mind that you chose the right team for the job. Repiping your home can take care of a lot of annoying plumbing problems, such as low water pressure or water that smells or tastes weird. You might have noticed problems with your toilet not flushing properly, a weak shower spray, or the water flow from faucets higher in some areas.
We'll carry out a full inspection of your plumbing and leave you with a system that works perfectly. We'll always aim to leave you with a working water supply for as long as we can for the duration of the project. We'll often put together your new pipework alongside your old system and then swap it out at the last moment. This means we'll only leave you without water for a very short time. Don't worry, we'll keep you informed every step of the way and ensure you are delighted with the service we provide.
Here are some of the problems repiping can solve:
Bad odors from your water
Low water pressure
A change in the color of your water
Increased water bills
5 Things to Ask When Hiring a Repipe Contractor
Repiping a home not only allows you to fix annoying plumbing problems but it improves overall performance and increases the value of your home. There are many options to consider for your repipe job, including copper, PVC, or PEX tubing. Before you take the plunge and hire a contractor, ask these five essential questions before making your decision.
What Materials Will you Use? Not all plumbers can perform the same kind of repairs. Some plumbers have less or no experience with certain materials, while others specialize in a particular area. Don't assume the plumber you're hiring knows everything -- find out beforehand if they're the right company for the job.
What are Your Credentials? The right plumbing contractor must be experienced, licensed, registered, and insured. Again, don't assume these things; ask, ask upfront before allowing the work to begin. It's also wise to check with the licensing agency to ensure the company's credentials are current.
What Kinds of Jobs Do You Do?: Some plumbing contractors work primarily in the residential space, others in the commercial realm, while others do it all. Find out which plumbing company has the most experience doing the kind of job you need doing.
What Do You Charge? It's best if you can get an estimate before you agree to hire a particular company, and to do that, they must come to the property and inspect it. Be wary of any company that gives you an estimate sight unseen. Every repiping job is different, and it's best to know what to expect cost-wise before making a commitment. Also, be sure to get estimates from several companies before making your final decision.
What's Included? It's common to think that everything is included in the estimate you received, but that's often not the case. The plumbing company may not clean up when finished or may only work certain hours, which can mean more money out of your pocket if the job takes longer than anticipated. Be clear upfront about exactly what you're getting for the price, and get it in writing.
How Long Does a Whole House Repipe Take?
The time it takes to repipe a home is based on various factors including, the size of the house, number of bathrooms, and materials used. Repiping a small home can be done in as little as two days, while larger homes can take a week or more.
The good news about repiping a home is that you won't be without water while the work is being done. Most of the time, the contractor builds the new plumbing system alongside the old one, so the only time you'll be without water is when they're changing the old system over to the new one.
Call Now For Trusted Pipe Replacement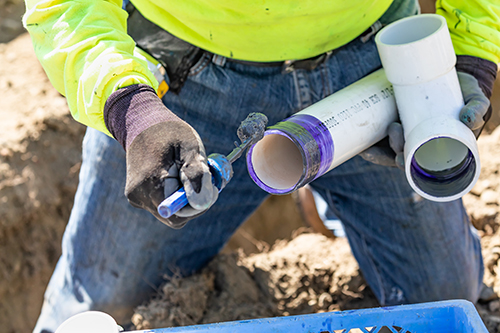 At Apex Plumbing, Heating, and Air Pros, we're proud to be the "Home of the Pros Who Knows". No matter what the extent of your pipe replacement project, we'll ensure we give you the best service possible. We have carried out countless whole-home repiping work and will provide you with peace of mind that your project will be completed with the same level of excellence.
Repiping may seem like a scary and expensive term. However, when you choose the right team of professionals and a company that offers great value for money, there really is no need to worry. We'll use the highest quality piping materials and ensure your entire project goes without a hitch. Most importantly, we'll leave you with a plumbing system that works beautifully. From cleaner and purer water to higher water pressure and no leaks, there are so many reasons to invest in this work.
Call the friendly and professional team at Apex Plumbing, Heating, and Air Pros today to discuss repiping in Columbus. We'll arrange an inspection of your plumbing and then provide you with a cost-effective estimate to think about without any pressure.