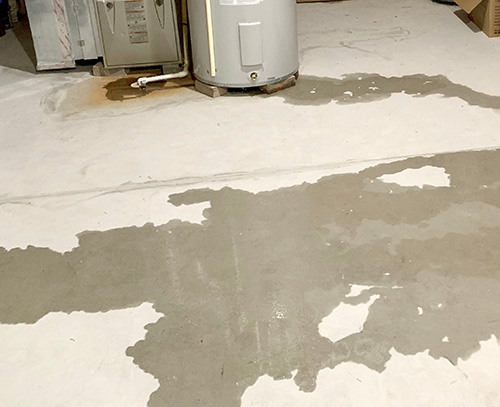 At Apex Plumbing, Heating, and Air Pros, we understand how worrying it can be when you need to arrange slab leak repair in Columbus, OH. These leaks can be especially concerning as they can affect the foundations of your home. The first you may know about a slab leak is when you see standing water around the perimeter of your home, or when you feel moisture under carpeting. The good news is that we are experts in foundation leak repair and restoring the area under your home to where it should be.
An undetected or neglected slab leak could disrupt the integrity and strength of your foundations. It's always best to get our team in to check if you suspect you might have a leak under your home. Whether you live in an older home with outdated plumbing, or it's a newer home and all the signs are there that you have a slab leak, call us. We have seen these problems often and know just how to solve them with the right approach. We can get a plumber to you at a time to suit you and we'll waste no time in locating and fixing the problem.
Contact us whenever you need expert drain and sewer services in the Columbus area.
What is a Slab Leak?
Homes with a concrete foundation typically have plumbing running underneath, and when those pipes start to leak, it's referred to as a slab leak. Because these pipes run under the foundation, many homeowners don't realize they have a problem until significant damage is done.
However, although a slab leak typically happens out of sight, you still shouldn't ignore moisture problems in and around the home because doing so can result in a compromised foundation.
Common Causes of Slab Leaks
Slab leaks typically occur in areas that have unstable soil. When soil shifts, sometimes it causes plumbing joints to weaken, which leads to leaks. As the water runs underneath the house, it further disrupts the soil making the problem worse. As the soil gets weaker, it loses support for the foundation, which leads to cracks.
Another common cause of slab leaks is faulty installation of the foundation or the plumbing. The major problem is that since this plumbing is out of sight, you have no idea whether the installation was done professionally, and if high grade materials were used.
In older home, contractors used cast iron plumbing, which if unprotected, can be corroded by minerals in the soil. If you have a home built before the 1960s, there's a good chance you have unprotected cast iron plumbing underneath the foundation.
How to Detect Slab Leaks
As mentioned above, slab leak detection can be tricky because the plumbing is hidden underneath the foundation. However, there are signs to watch for that signal there may be a problem. Be on the lookout for:
The water meter is running when no water is being used in the house
A sudden rise in your water bill
The sound of running or rushing water when the water is shut off
Cracks in the walls or ceilings
Cold spots on your walls or floor
Increased insect or rodent activity because of excess moisture
The odor of raw sewage in and out of the house
Water stains on your floor
If you notice any of these telltale signs of a slab leak, don't delay, because the damage will only get worse over time. Call the experts at Apex Plumbing, Heating, and Air Pros and ask about our foundation leak detection service.
Solutions For Your Slab Leak Repair in Columbus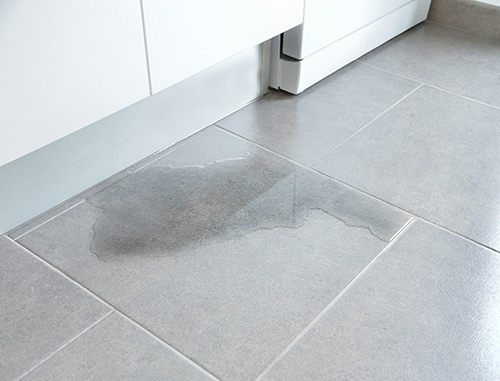 Slab leak repair in Columbus is one of our specialities here at Apex Plumbing, Heating, and Air Pros. We know that these issues need urgent attention otherwise, they could lead to structural damage of your home. Call us the moment you suspect you have a problem and we'll be there to help. You'll always get great service when you come to us and we'll ensure you have complete peace of mind that the problem has been solved.
Over the years, we've helped many homeowners with foundation leak repair and our plumbers will waste no time in getting your problem resolved. From detecting where the leak is coming from to repairing pipes that run underneath your foundations, our experts will get the job done right.
As with many plumbing problems, a slab leak is always best dealt with before it can do extensive damage. While slab leaks are hard to detect until they have started to cause problems above, speed is still of the essence. We'll start by detecting the source of the problem and then get to work on the best approach to solving it for you. We'll always aim to cause the least disruption and to solve the problem as quickly as possible.
Arrange Foundation Leak Repair With the Best
For years now, Apex Plumbing, Heating, and Air Pros has been providing outstanding slab leak repair to the residents of Columbus. We ensure 5-star service for every customer no matter what the problem. We've dealt with countless slab leak repair jobs over the years and will work closely with you to ensure you understand what we are doing at every stage.
Our highly skilled and professional plumbers are friendly, smartly dressed, and always ready to help. If there is any aspect of your foundation leak repair that you need to be explained, we'll always be happy to assist. We'll also give you complete peace of mind that the problem has been fully solved so that you don't stay awake at night worrying that the problem will come back.
Call the team at Apex Plumbing, Heating, and Air Pros today if you need slab leak repair in Columbus from a team you can trust. We're standing by ready to help you.