While undergoing trenchless pipe repair in Columbus, OH, the solution can be found while preserving your landscaping. You've worked hard to establish your lawn or garden, and the last thing you want is to tear it all up to access your sewer lines.
Whereas in the past a plumber would have had to dig a trench on your property to gain access to the piping, modern trenchless sewer repair methods can install the new piping with minimal disruption to your yard. Read on to learn more about this unique method and how to tell when your sewer lines are in need of repair.
Contact us whenever you need expert drain and sewer services in the Columbus area.
Trenchless Sewer Repair Fixes Your Pipes While Protecting Your Yard
Sewer lines are the large pipes that run from your house out towards the street. They connect your home to the main Columbus sewer system to carry wastewater from showers, bathtubs, sinks, and toilets away from your home and into the sewers.
You might think that a problem with a sewer line wouldn't be that big of a deal, as it doesn't occur inside your home, but sewer line issues can actually impact your home in a variety of ways.
Problems with your sewer line can trigger a variety of other issues, including:
Frequent backups in drains and toilets
Odors of sewage, mold, or mildew in yard
Soggy patches in lawn or garden
Cracks in driveway or foundation
Rise in pest activity in yard
Be on the lookout for any of these signs, as well as unexplained spikes in your water bills. Any of these could indicate a leak in the piping under your home or yard. Water damage can be incredibly expensive to repair, so it is always best to deal with any suspected issues as quickly as possible to prevent the damage from spreading.
In the past, a plumber would have to dig a large trench to access the piping under your yard or home. This process was time-consuming, labor-intensive, and expensive, not to mention damaging to your yard. Then, after the repairs were completed, you would still have to resod your lawn, plant new flowers, and otherwise restore your landscaping, resulting in additional costs.
With trenchless sewer repair, the process is much easier, less costly, and less damaging. Your plumber can access your sewer lines from the main access points, using drain cameras to find damaged portions of piping.
Drain snakes and hydro jets can break up any blockages to clear clogs, making way to put the new piping into place. Trenchless pipe repair essentially creates a new pipe within the old one through a relining process, curing and hardening the new pipe inside.
5 Signs You Need Water Line Repair
If you have a plumbing issue that's affecting your whole house, it may not be a single pipe that's the culprit -- it may be a main water or sewer line, which is a serious issue that you must fix ASAP. Here are the top five signs that you may have an issue with one of your main water lines.
Puddles in the Yard: If you see water puddles in the yard when there's no precipitation, it could be that the water line has sprung a leak.
Dramatic Loss of Water Pressure - If you typically have good water pressure, but it suddenly drops, it could be a blockage in the mainline that's to blame.
Spike in Water Bills: Sometimes, the only way to detect if you have a water leak is by seeing sky-high water bills. If you're suddenly paying a lot more for water, get a main water line inspection.
Foundation Cracks: Persistent moisture around your home's foundation eventually leads to cracks, and if not dealt with immediately, can cause severe damage.
Gurgling Sounds: If you hear strange gurgling sounds coming from your toilets or when you turn on your sink, you have a plumbing problem that probably isn't relegated to a single pipe.
If you suspect that you have issues with the main water or sewer line, call the experts at Apex Plumbing, Heating, and Air Pros for an inspection.
How Does Trenchless Pipe Replacement Work?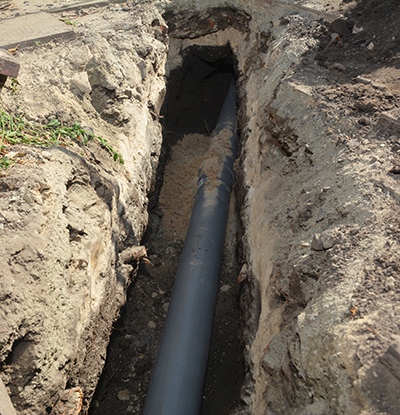 It used to be that to fix or replace the main water or sewer line, the contractor had to dig a trench to expose the pipe, which often meant cutting through your well-manicured lawn or landscaping. This repair is often messy, unattractive, and expensive. However, today methods like trenchless pipe repair or pipe bursting are available, which greatly reduce the need for extensive excavation. Here's how it works.
Your plumbing contractor will break up a tiny section of your basement floor where the sewer line leaves the home. They then dig another hole at the end of the yard where the sewer line begins. With access to both ends of the line, they feed a cable through the old sewer line, which contains the new pipe.
A machine pulls the cable and the new line through the old pipe. Once this is in place, the plumber breaks or bursts the old line to make room for the newly installed pipe.
If this sounds like the perfect solution for your main sewer line repair, call us for a consultation.
Your Trenchless Pipe Repair Pros in Columbus
At Apex Plumbing, Heating, and Air Pros, we are proud to be called "The Pros Who Knows." It is a testament to our team's expertise and the quality of our work. With each and every job, we offer our five-star satisfaction guarantee. If for any reason you aren't completely satisfied with the results, we will come straight back and make it right.
Our customers are our top priority, and we won't rest until the job is done right. Our plumbers are all extensively trained and experts at what they do. You can always count on our team for reliable advice and guidance regarding your home's plumbing system, including the sewer lines.
When you are in need of trenchless pipe repair in Columbus, call on Apex Plumbing, Heating, and Air Pros. We'll send a plumber to your home as quickly as possible to get things flowing smoothly once more.