Here at Apex Plumbing, Heating, and Air Pros, a thermostat isn't just a small appliance mounted on your wall; it's the key that helps your HVAC system operate efficiently and according to your specific needs. Living in Columbus, you experience a full spectrum of seasons, making a reliable thermostat a vital part of your home.
Your thermostat governs your heating and cooling system, affecting not only the level of your comfort in your house but also your energy consumption. That's why our team is devoted to providing high-quality, personalized thermostat services, with a five-star satisfaction guarantee.
Your Go-To for Thermostats in Columbus
The team at Apex Plumbing, Heating, and Air Pros is ready to help Columbus homeowners navigate the selection and installation of the best thermostats for your needs. In addition to choosing the right thermostat for your home, proper installation is critical to ensure its effective operation.
At Apex Plumbing, Heating, and Air Pros, our team has the expertise to install a wide range of thermostats, ensuring they are calibrated correctly to provide optimal performance and energy efficiency.
We also provide ongoing support and services for your thermostats, including maintenance, repairs, and upgrades so they continue to serve your home effectively for years to come.
Experience the Innovation of Smart Thermostats
The age of smart technology has infiltrated home heating and cooling with the advent of smart thermostats. These devices offer enhanced control over your home's temperature, letting you manage your HVAC system even when you're not home.
Why choose a smart thermostat?
It adapts to your routine
You can control it from anywhere
It provides energy and cost savings
It gives you insightful energy reports
Smart thermostats integrate with your WiFi network, allowing you to adjust settings remotely via smartphone or computer. This feature is perfect for unexpected changes in your schedule or adjusting the temperature before you get home, maximizing your comfort.
Beyond the convenience and energy-saving benefits, smart thermostats also provide a layer of intelligence to your HVAC system that was previously unimaginable.
With features like geofencing, your smart thermostat can detect when you're leaving or approaching home and adjust temperatures accordingly, ensuring your home is always comfortable.
Some models also provide alerts for extreme temperature changes or when it's time for maintenance, such as changing the air filter. This not only extends the life of your HVAC system but also improves its efficiency.
Enjoy the Ease of Programmable Thermostats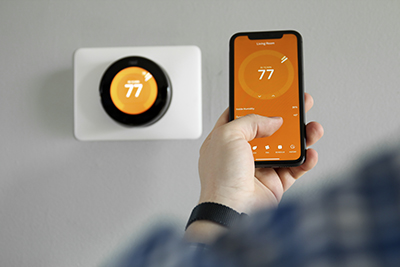 Smart thermostats might be the new trend, but programmable thermostats are still a valuable asset for homeowners in Columbus. These devices allow you to pre-set your temperature preferences for different times and days.
By aligning your HVAC usage with your daily routines, you're guaranteed consistent comfort while minimizing the waste of energy.
Programmable thermostats provide the advantage of set-it-and-forget-it convenience. They offer flexible scheduling, so that after a busy day out of the house, you can arrive home to rooms already set to your desired temperature.
Once programmed to your comfort preferences, you won't need to manually adjust the thermostat frequently, making it an excellent choice for busy households.
And meanwhile, whenever you're most frequently away from the home, your thermostat can run minimally, decrease your average monthly electric bill, and save energy.
With our dedicated team by your side, we make the process easy and efficient to find and install just the right thermostats in Columbus. Call us today to schedule a service and discover the Apex Plumbing, Heating, and Air Pros difference!