From restoring a struggling furnace to a full range of heating services in Columbus, OH, Apex Plumbing, Heating, and Air Pros provides personalized and professional care. Our furnace company is here to provide the repairs you need and keep your heating system operating reliably and efficiently. We're reachable 24 hours a day, providing five-star service with over 7,500 great reviews, and free estimates on services and equipment.

Expert Heating Services and Fast Repairs
From gas and electric furnaces to heat pumps and mini-splits, our furnace company technicians have the experience to quickly diagnose and repair your heating system problems. They arrive well-stocked with parts and equipment to make their heating services visit as brief as possible and get your family warm again. We're highly trained and ready to correct complex startup problems, air circulation issues, and burner efficiency issues for reliable, comfortable heat.
Reasons to call us for heating services:
Furnace problems like difficulty starting
Efficiency, performance, and air balancing help
Improving indoor air quality
Keeping up with regular maintenance and tune-ups
New furnace installation and selection help
Looking for more than heating services? Apex Plumbing, Heating, and Air Pros can also handle your cooling, plumbing, drains and sewer services! Trust the Pros Who Knows!
Certified Furnace Company for Installations
At some point, your old furnace will either be too unreliable to count on, or use too much energy compared to newer units, and our furnace company will have a perfect replacement. Modern furnaces provide significantly better energy efficiency than older units were designed for, and we even have some models with efficiency in the 90 percent range. We can help you review the numbers, BTU and SEER ratings, and capacity fit for your home's needs. Our installation team is tidy, efficient, and respectful of your home and family, making "new heat day" a changeover that you'll celebrate for years to come.
Skilled Furnace Company for Maintenance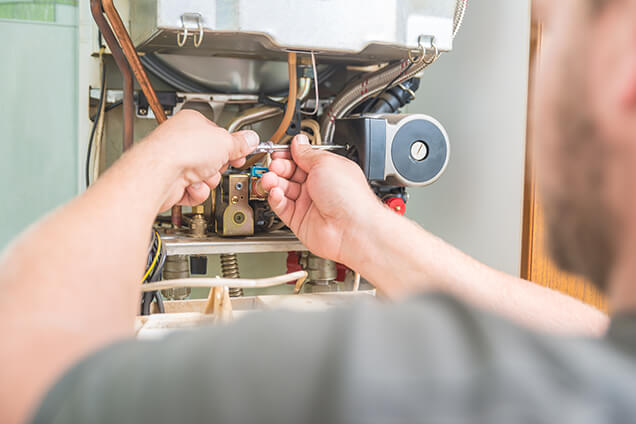 The "Pros Who Knows" focus on maintenance as the best way to help you get the most out of your heating system investment. We provide cleaning, safety checks, tune-ups, and other routine care and inspections. We also identify any repair needs before it's time to start the heat for the season, so you can get them taken care of when you have the time. It's especially important to have regular maintenance for gas furnace systems, to ensure carbon monoxide safety measures are operating as they should.
Count on Apex Plumbing, Heating, and Air Pros for all your heating services in Columbus. Call today!