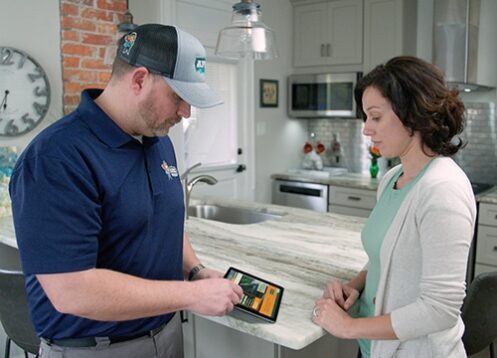 We know how important it is for you to be able to maintain a comfortable and cool environment in your household during the hot summer season. However, many individuals find it difficult to establish a cost-effective approach to sustaining pleasant and enjoyable indoor temperatures. To help you maximize your energy efficiency during the summer season, consider the following seven effective strategies to optimize your energy usage during periods of warm weather.
1. Evaluate Your Home Insulation
During both the summer and the winter seasons, your home insulation is one of the most important safeguards against the extreme weather conditions that nature presents. On hot days, your insulation minimizes the amount of hot air that enters your home and the amount of cool air that exits your household.
Attic insulation is one of the main sources of heat loss in a home. If you notice that rooftop snow melts quickly during the winter, there is a high chance that your attic has poor insulation. Consequently, this increases your chances of inviting hot air in and leaking cool air out of your home during the summer. This phenomenon causes your AC unit to exert more energy to keep your home temperature comfortable.
Having the level of insulation that is recommended for your climate can help reduce your energy cost by 15% in both the winter and summer seasons. Working with specialists can ensure that you receive a thorough and proper evaluation of your home's insulation quality.
2. Regulate Your AC Usage
Since your AC unit is primarily responsible for helping you maintain a cool household environment, it usually consumes the most energy of any appliance during the summer. When the heat gets extreme, many individuals will reflexively blast their AC to cancel out the hot temperatures. While this habit may seem appealing, it can also lead to drastic increases in your energy bill. In fact, most household environments can maintain pleasant indoor temperatures when the thermostat is set to 78 degrees Fahrenheit.
Setting your thermostat below 78 degrees in the summer increases your energy cost by approximately 3% or more per degree. For example, if you set your thermostat to 75 degrees, you could increase your energy cost by almost 10%.
In addition to keeping the temperature at 78 when you are home, you can use a smart thermostat to keep it warmer when you leave. This could be 80 to 82 if you have pets who still need to stay comfortable or a few degrees more if you are leaving an empty home. Zoned air conditioning can add another benefit since you can focus air conditioning to only the portion of the home that you are using at a certain time of day.
3. Update Your HVAC Air Filters
Having clean HVAC air filters is important for your home's indoor air quality. Not only does this ensure that you minimize the volume of allergens, pollutants, and debris in your household, but dirty and outdated air filters overwork your HVAC system. Changing your air filters can help ensure optimized airflow, so you need to make sure that you replace your air filters at least once every three months.
Along with maintaining air filters, you need to ensure that your air vents are also clean. A professional may be able to inspect the state of your ducts during an annual maintenance visit. Depending on the level of dust in your home, you may wish to clean your ducts every 5 to 10 years.
4. Use Fans
Using fans to distribute airflow can help maximize the utility of your AC unit. They will help cool air to circulate more efficiently, which can ensure that you don't have to run your air conditioning at very low temperatures. Ceiling fans are an excellent tool to create a cool downdraft in the summer and pull warm air up in winter for even circulation. A simple flick of a switch will reverse their direction.
In spring and fall, fans and cross ventilation from windows may be enough to keep your home cool. You may also be able to use this technique on cooler summer mornings and evenings, as long as it's not too humid outside.
5. Use Energy-Efficient Light Bulbs & Appliances
Regardless of the time of year, many household appliances must consume energy on a regular basis. Investing in energy-efficient appliances such as refrigerators, dishwashers, electric stoves and ovens, laundry machines, and HVAC units can help you save considerable money on your energy bill. Look for ENERGY STAR ratings on new appliances. Often, your utility company will offer rebates when you upgrade to a more efficient version of a home appliance.
In addition to energy-efficient appliances, upgrading your light bulbs from incandescent to LED can help reduce your energy costs. The average incandescent light bulb has a life span of 1000 hours, and it only convert 5% of the energy it uses into light. The rest converts into heat, which adds to the demand that your household places on your AC unit. Since LED lights have a considerably longer life span and produce substantially less heat, they are a much more cost-effective option for your household lighting. If LED light bulbs are too expensive, compact fluorescent lamps can provide similar benefits for your energy efficiency efforts.
6. Upgrade Your Windows
In addition to your insulation, the quality of your windows can have a huge impact on your household temperature. If your home has double-glazed windows, this helps to prevent cool air from leaving your home. This effect is also true during the winter months, which means that you maintain a high level of energy efficiency in both extreme seasons. In addition to their effect on indoor temperature, some double-glazed windows limit UV damage and minimize outside noise.
7. Disconnect Idle, Energy-Consuming Electronics
While many people choose to leave unused electronics plugged in, they may not realize that unplugging these items can help them reduce energy costs in the summer. Any electronics that utilize electricity also produce heat, which can increase the amount of work that your air conditioner has to perform. Therefore, unplugging unused appliances and electronics can be a very simple way of reducing the power you consume.
Optimize Your Energy Efficiency With the Help of Specialists
Optimizing your energy efficiency in the summer can provide numerous benefits for your household. Energy-efficient improvements will not only ensure that you save money on your utility costs, but they can also enhance the longevity of your appliances and electronics. While there are many efforts you can implement on your own, working with knowledgeable HVAC technicians can ensure that you have the most comprehensive energy efficiency protocols for your household.
At Apex Plumbing, Heating, and Air Pros, our team of expert professionals furnishes a complete array of HVAC services, and they can help maximize your energy efficiency this summer. For many years, we've been helping residents of the Greater Columbus area and Central Ohio lower the cost of their energy bills while maintaining optimal indoor air quality and temperatures. To learn more about this topic or schedule an appointment, contact us today.