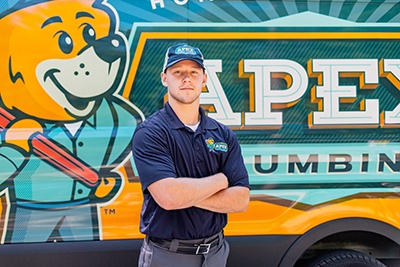 Apex Plumbing, Heating, and Air Pros is proud to be the expert when it comes to HVAC in Pickerington, OH. We offer a wide range of services for residential and commercial customers. Our highly trained technicians have years of experience in heating and cooling system repairs, installations and maintenance, and all of our work comes with a 5-star satisfaction guarantee. If you're not satisfied with any of our services, you can trust our team members to do whatever it takes to make it right. We offer free, no-obligation estimates, and you can easily schedule service via our online portal. Our team members look forward to handling all of your heating and cooling needs!
Quality HVAC Repair Services in Pickerington
If your heating or air conditioning system is in need of repair, Apex Plumbing, Heating, and Air Pros is ready to assist. Our technicians will conduct a thorough inspection of your system to accurately troubleshoot and remedy the issue. Plus, we provide honest assessments and up-front pricing to ensure our customers are never surprised by hidden costs.
We understand the importance of having a fully functioning AC or heating system as the temperatures warm up during the summer and cool down as the winter months approach. Our expert technicians are committed to providing the highest quality service with every job, so you can rest assured you're in good hands with us when it comes to heating and air conditioning repair!
Our HVAC services include:
Electric furnaces
Gas furnaces
Heat pumps
IAQ testing
Humidifiers
Dehumidifiers
Air purifiers
UV lights
Air scrubbers
Air balancing
Zoning systems
Thermostats
Ductwork
Looking for more than HVAC in Pickerington? Apex Plumbing, Heating, and Air Pros can handle all your plumbing services and solutions!
Expert Heating and Air Conditioning Installation Services in Pickerington
Are you considering upgrading your heating or AC system to a more energy-efficient model, or does your existing system require a replacement? Whatever type of situation you're dealing with, our team is up to the task. We install most major AC and heating system brands, makes and models, along with humidifiers dehumidifiers, zoning systems, air purification systems, UV lights, and duct systems. Our technicians are happy to advise on the best systems to meet your home heating, cooling or indoor air quality needs, and we offer online coupons for various installation services to help our customers save on costs.
Reliable Heating and Cooling Maintenance
Scheduling regular maintenance is one of the easiest ways to extend the life of your HVAC system and ensure it runs smoothly throughout the seasons. During a maintenance call, our technicians will inspect your entire heating and cooling system, replace dirty or worn out air filters and clean all the components. If our techs detect any issues during the maintenance tune-up, they'll consult with you on all necessary repairs, parts replacements and overall costs before starting any work.
Apex Plumbing, Heating, and Air Pros is happy to assist you with services for your HVAC in Pickerington. Contact our friendly team members today to get started!