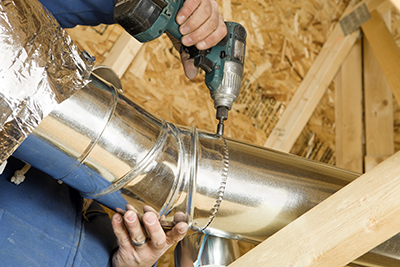 Do you have a problem with your ductwork in Columbus, OH? Whether you have leaking ducts or you need cleaning, Apex Plumbing, Heating, and Air Pros can help. Our HVAC professionals offer comprehensive ductwork repair options such as insulation and remounting to get rid of any saggy sections.
If your entire system is struggling, we also offer ductwork replacement services to get everything back in tip-top shape. Your ducts are veins and arteries that carry conditioned air throughout your home, so it's critical to keep them in good condition to reduce the strain on your heating and air conditioning systems.
Expert Ductwork Installation in Columbus
If you have an older home in Columbus, it may not have installed ductwork. Many older homes have radiant heat, which means that adding ducts is a retrofit for the home. At Apex Plumbing, Heating, and Air Pros, we can plan a custom-designed system to run ducts throughout your home, allowing you to upgrade to newer and more energy-efficient options for heating and cooling.
Why opt for ductwork installation for your HVAC system? There are many reasons, including:
Compatible with energy-efficient systems
More affordable HVAC units
Heating and cooling can use the same delivery mechanism
Reduced utility bills
Reliable Ductwork Repair in Columbus
Since ductwork is hidden behind walls and panels, it's often easy to forget that it needs maintenance to keep your home at optimal temperatures.
Your ducts are part of your HVAC system. When they start to sag or leak, it can lead to significantly higher heating and cooling costs. Some estimates say the cost of leaky ducts is equal to 30% of what you spend on heating and cooling each year.
Our team can locate any problem areas and either repair or replace sections of ducts that need repair. As part of our ductwork repair service, we also offer optional insulation to help improve HVAC unit performance year-round.
When is it time to have an HVAC professional look at your ducts? When you notice:
Higher energy usage
Inconsistent heating and cooling
Short cycling
More dust in your home
Fast Ductwork Replacement Service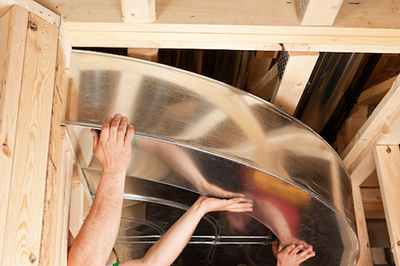 If your ductwork can't be saved with repairs, we offer ductwork replacement services for homes that already have existing ducts. Our professional installers can usually finish the job in a single day, tearing out the old ducts and getting the new ones in place quickly, minimizing the disruption to your daily life.
Rust, sagging, and leaks can all indicate it's time to schedule ductwork replacement service. You should also consider installing new ducts if your existing ductwork is more than 15 years old. While ductwork can last for 20 years or more, it often starts to deteriorate at the 15-year mark, increasing your heating and cooling costs.
Ducts in poor condition can also lead to equipment breakdowns. When your AC unit or furnace works harder to maintain temperature, they break faster, which can be an expensive reminder to have your ductwork inspected.
Do you need help with worn ductwork in Columbus? Contact Apex Plumbing, Heating, and Air Pros today for fast, reliable service, a free, no-obligation estimate and satisfaction guarantee.