Winters in central Ohio are often frigid and cold, so keeping the phone number to a reliable furnace repair in Columbus, OH is smart planning. Having the freezing temperatures wake you and your family in the middle of the night because of a faulty furnace is a disturbing thought. That's why the heating repair experts at Apex Plumbing, Heating, and Air Pros are always just a phone call away, ready to fix the issue.
Expert Heating Repair in Columbus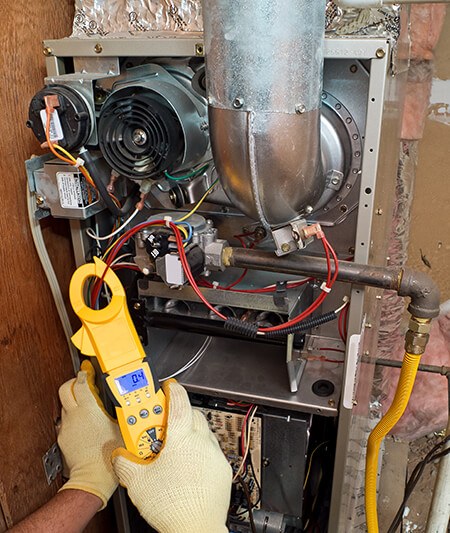 Home systems and appliances around the house are going to malfunction or break down. That is just an inconvenient fact that comes with owning a home in Columbus. However, with a bit of preparation, it is likely you can reduce the aggravation and stress that can come along with those situations.
Like most appliances, a faulty furnace will usually deliver gradual warning signs that something is amiss. There are subtle differences at first, then as the problem intensifies, there will be more noticeable changes, and after a few weeks, the furnace is just not doing the job it should. Of course, the best defense against a major furnace problem, is recognizing the initial red flags of trouble, then calling the pros at Apex Plumbing, Heating, and Air Pros to pinpoint the issue and fix it.
Early signs that may indicate your furnace needs to be repaired:
Higher than usual utility costs
Unit makes unusual sounds
Pilot light is yellow
Unit is over 12 years old
Increased dust inside home
Our Furnace Repair Keeps Homes Warm and Comfortable
Home safety and comfort are usually top priorities for today's homeowners. Camera surveillance, alarm systems, and app-connected doorbells are a few popular options that can supply a sense of safety and peace of mind. However, winter weather ushers in a different type of threat to your home environment, as ice-cold temperatures try to invade your living space. At Apex Plumbing, Heating, and Air Pros, we have both the expertise and years of experience in furnace repair to significantly reduce that threat, regardless of the brand and type of your heating unit. Our professional heating repair technicians are also fully certified and licensed, meaning most types of furnace warranties stay valid after our services.
At Apex Plumbing, Heating, and Air Pros, we are consumers, too, and we realize a well-done job is only a part of running a heating service. The way we conduct business and treat our customers also plays a big role in our level of success. We are honored to be part of the Columbus business community, and every day we strive to exceed our customers' expectations. Whether your furnace needs regular maintenance, minor repairs, or emergency attention, you can count on Apex Plumbing, Heating, and Air Pros to do the job.
Looking for more than furnace repair? Apex Plumbing, Heating, and Air Pros can also handle your installation, maintenance and air conditioning repair services! Trust the Pros Who Knows!
We also offer emergency heating repair in:
---
Call us today at Apex Plumbing, Heating, and Air Pros for all of your heating repair needs and questions.