We are the expert commercial plumber in Hilliard, OH, that is fully qualified to help maintain your company's plumbing system. If you think that just any old plumber will do, that is a big mistake. Commercial facilities tend to be much larger than residential homes, and they often have specialized plumbing requirements. This is why working with an experienced commercial plumbing contractor is so important. Here at Apex Plumbing, Heating, and Air Pros, we have worked with countless businesses in the local area, and we would be more than happy to assist with yours as well. Here's a look at how we can help.

Experienced Commercial Plumbing Contractors You Can Trust
Whether you need a plumbing system that can handle heavy usage or that performs a specialized function, our team can make it happen. From hotels to gyms to manufacturing plants to offices, we've seen it all over the years, giving us unique insight into the plumbing needs of commercial enterprises.
When you call us for assistance with your commercial plumbing, we'll start with a free, no-obligation consultation to get to know the specific needs of your business. We'll work closely with you to understand exactly what your organization requires so that we can deliver a customized plumbing system that is equipped for whatever you need.
We don't just design and install systems, though. Our plumbers an also help you keep your plumbing system running as smoothly and efficiently as possible going forward. From basic tune-ups to significant repairs, you can count on our team to get the job done.
Some common signs of issues with your plumbing system could include:
Water leaking or pooling around pipes
Weak, intermittent or no water flow to taps
Lack of hot or cold water as needed
Steadily increasing water usage and costs
Sluggish or blocked drains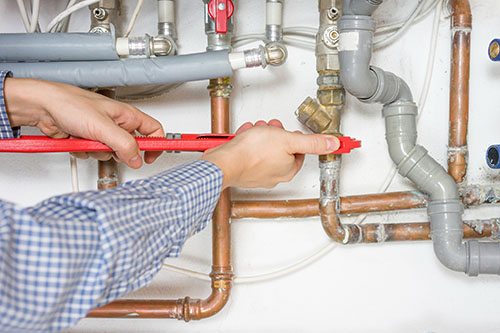 If you notice these or any other potential signs of trouble, be sure to let us know right away. We'll send a commercial plumber in Hilliard out to identify and remedy the issue quickly so you can get back to work. We strive to be as efficient as possible to minimize any possible downtime for your business due to plumbing issues.
Hilliard's Go-To Source for Commercial Plumbers
We are known as the "Home of the Pros," thanks to our technicians' dedication to being the best at what they do. Our team members work hard to stay up-to-date on the latest plumbing industry developments so that we can better serve our loyal commercial clients.
We invite you to get in touch with us today to learn more about how our commercial plumbers can help your Hilliard business. Call Apex Plumbing, Heating, and Air Pros now to get started with your free consultation.