Did you know that Apex Plumbing, Heating, and Air Pros offers emergency sump pump repair and installation in Hilliard, OH? In our area, rains and foundation leaks cause flooding as well as plumbing. You need a solid sump pump installation from Apex Plumbing, Heating, and Air Pros to keep your basement dry no matter where the water comes from.

Our plumbers at Apex Plumbing, Heating, and Air Pros thoroughly check your sump pump installation as well as the pump's mechanism, motor, and power source. If there's anything that needs attention, we're ready to make it right, from replacement to make sure the discharge line isn't bringing water right back into your basement in Hilliard. We're your full-service plumbing pros, keeping your home protected from water damage.
Affordable Sump Pump Repair in Hilliard
Our expert plumbers focus on the entire sump pump installation and how it meets your home's needs. In some cases, we may recommend switching to a higher-volume or submersible pump, especially when you have a basic stick pump in place or one that's served more than 10 years. Since rising water tables place pressure on your basement and also put finished basements are risk of water damage, we may also recommend a colocated backup or second pump installation.
Sump pump care includes verifying the sump and removing debris, testing the impeller and motor, and making sure the discharge hose delivers water from the pump far away. Some homes have a plastic hose that gets curled near the foundation, defeating its purpose. Our experts can install an underground pipe leading away to a dry well for reliable discharge use.
Our sump pump experts offer:
Testing and repair for your sump pump
Replacement pumps and backup pump installation
Discharge pipe services and testing
Battery backup sump pump features
Secondary pumps for larger and finished basements
For homes without a backup generator, our sump pump installation team can add battery backup to keep pumping when lights go out.
Reliable Sump Pump Installation in Hilliard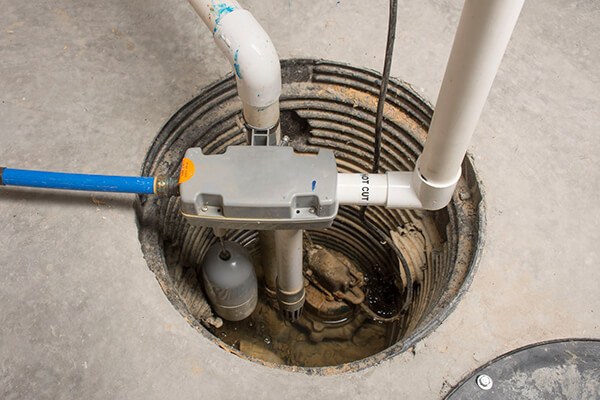 Our experienced, licensed, and insured plumbers protect your home in many ways including sump pump installation and testing. Apex Plumbing, Heating, and Air Pros has been serving the Hilliard area with trusted plumbing service, now up to 7,000 excellent reviews online! We provide your first line of defense against heavy rains, which we've seen plenty of in recent years. Ask for a free estimate and we'll provide a range of options to meet your budget for any service you need with a 100% guarantee.
When you need fast and affordable sump pump repair and installation in Hilliard, rely on our team at Apex Plumbing, Heating, and Air Pros. Call today!