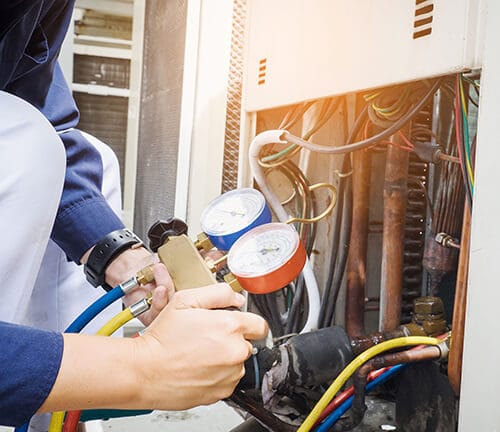 When you notice a problem and need AC repair in Hilliard, OH, rely on our trustworthy team at Apex Plumbing, Heating, and Air Pros. Struggling AC units are less effective and put a strain on the compressor, air handling, and other components until the defect is found and fixed. HVAC repair is a cost-effective choice for homeowners, and with expert technicians on the job, diagnosis and repair is often fast. They arrive with the equipment and parts they need for most common repairs, and keep things simple whenever they reasonably can.
Skilled AC Repair in Hilliard
Well-trained, experienced AC repair technicians know all kinds of residential and often commercial AC systems. From older units where you get compliments for keeping it running so long, to newer units that have amazing efficiency ratings, they're ready. They know the correct procedures and the secrets of the trade. When your Hilliard home needs HVAC repair, they dig in and check electrical, refrigerant, airflow, and other systems to make sure they find the root of the problem.
Providing a fast fix is only effective if it's an AC repair that solves the problem and avoids callbacks later on. If an electrical component is worn because the system is short cycling, your experienced technician will address the cause of the short cycling as well. That could be as simple as changing the air filter or finding a loose connection, but it will provide you with a much more reliable system. In the case of short cycling, it will also save a lot of wear on the AC as well! When the technician explains the problem and the process, you'll be glad you called the right people.
The company behind the technician is important as well. They make sure technicians have the training and experience needed, and support them as they provide quality services. Rushing them or pushing them to be salespeople as well affects their ability to serve you effectively. Expert technicians need to be able to focus on the work at hand, thinking of the principles behind HVAC repairs for a perfect solution.
Today's HVAC systems can be complex, requiring a higher level of technician skill. Intelligent components like smart thermostats and variable speed compressors take more knowledge to diagnose. Zoned ductwork can present problems in one area of the house, where other areas are perfectly cooled. Symptoms might even show only at one time of the day or another. If your technician is asking questions like you're on a detective TV show and you're not sure how they're relevant, you've probably got an expert. They have seen a lot of unusual problems, and can handle tough AC repair challenges.
Watch out for these signs that your AC needs checking out:
Thermostat adjustment doesn't start cooling
Increasing energy use
Unusual sounds, smells, or leaks
Airflow is warm or has totally stopped
Expert HVAC Repair by the Pros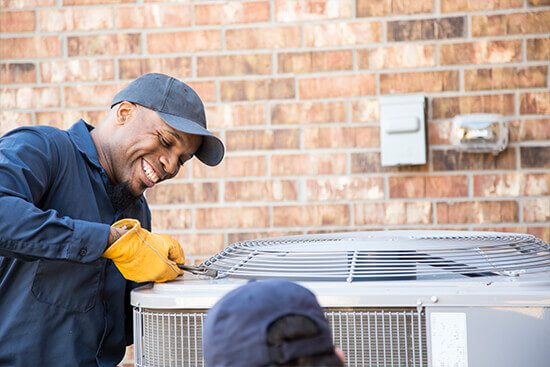 At Apex Plumbing, Heating, and Air Pros, we send you experienced technicians for your HVAC repairs who know AC systems inside and out. At the "Home of the Pros," we're proud of our higher level of service. The excellent results our customers receive are from comprehensive care. Our thousands of online reviews help new customers understand what a great choice they're making when they call us. They'll speak with our friendly, helpful customer service team. We're reachable 24/7 to arrange a service visit in Hilliard. If you're looking for a second opinion, we're glad to check out the problem and provide a clear, competitive quote. It's all part of 5-star satisfaction and great work from the "Pros Who Knows!"
Expert AC repair can restore efficiency and keep your system running longer in Hilliard. Call Apex Plumbing, Heating, and Air Pros 24/7 to schedule service!